La granita
The Aeolian islands are the reign of Eolus, the god of the wind, that wind that in course of millennia accompanied different populations far from their mother earth towards those islands so harsh and wild, but at the same time, so beautiful and pure. The conqueror populations, guests, and sometimes discoverers, each of them contributed to the creation of a complex puzzle, today making part of the vast traditional Sicilian cooking. A relevant example of this mix of flavours and traditions created one of the milestones of the Sicilian confectionary, its majesty the granita, an uncontested protagonist of the islands' breakfasts.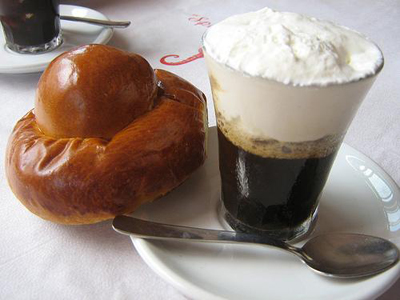 The origins of this product date back to the Arabic domination in Sicily (827 – 1091 A.D). The Arabs imported the recipe of the sherbet, an iced and aromatized drink with fruits and rose waters. Many of the documents evidence the birth, during the Medieval Age, of a new professional figure: the "nivarolu", who collected and kept the snow in special locals for a hot season. The most interested areas of this phenomenon were: Etna, Peloritan Mounts, Iblei Mounts, and Nebrodi, places where even today it is not difficult to find holes in the soil made of bricks.
The preparation of the forefather of the granita occurred scratching the snow, mixing it to citrus juices, and fruit syrups. During the 16th century, adding the marine salt to the snow the preparation of the "rattata" was completely modified, and the snow, from the primary ingredient was transformed into the refrigerant one. The ice, once  transformed, was put into a wooden well, into which a small zincous bucket was put where water, whisked fruit, or citrus juice was mixed.
The continually mixed  mixture  by a system of handle was more creamy, and the ingredients got better mixed among them. The modern granita is prepared with the help of a "gelatiera", which simplifies the process of production, and grants a more creamy product, where the ice crystals are almost imperceptible.
Where to Eat a Good Granita
Messina is a worldly capital of granita. In every bar it is possible to taste a granita in different flavour varieties : coffee, lemon, strawberry, almonds and black mulberry. In the city the "mezza con panna" (the half with whipped cream), an expression referring to a granita of coffee with the cream with the characteristic brioches. The tastes of pistachio (typical of Bronte) and almonds are widely spread in zone of Catania and Siracusa. At this regard the minnulata of Catania (mandorlata) is very famous; upon it a drop of warm coffee is poured.
On the Aeolian Islands the range of tastes is close to that one of Messina: lemon, strawberry, coffee and peach, almond and mulberry are the main ones.