Beaches of Vulcano
Black sand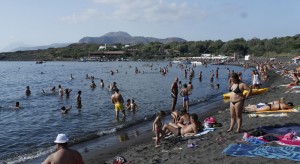 The island of Vulcano is famous almost all over the world for its black beaches, Porto di Ponente, called so for the sand's colour of volcanic origin. Crystalline sea waters are like a mirror for the intense black lava stones, which do not deny, under the sun rays, that effect so similar to crystals; all this only for tourists' pleasure who love to enjoy the spontaneous artistic production of nature which creates and offers superior sights, for purity and beauty, in comparison to those created by man.
Fumarole beach
Fumarole beach is peculiar because it is bathed by waters warmed by sulphuric vapours. In many points water boils because of the presence of these submarine gassed sources, which make each swimming pleasant and beneficial.
Gelso Beach
Gelso Beach is dominated by a very evocative lighthouse, from where it is possible to admire the Saracen coast, as well as Mount Etna. The sea bathing it is blue, clear and crystalline. It can be reached by car or scooter, going all over the Provinciale, which from the Levante Port goes on till Vulcano Piano, and then forks into Gelso or Capo Grillo. It is more simple to reach it by boat: fisherman sailing there can find themselves on Spiagge Nere every day.
Asino Beach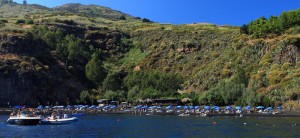 You could never imagine it was possible to find a cove of black sand on a volcanic island, so intimate and calm during the day, and so busy and fashionable at night. Such a suggestive place is able to combine one's passion towards the green of the mountain and the sea. It is the cradle of all the elements of nature: crystalline water of a pristine sea, warm air of fine seasons, the black soil and the faraway fire of volcanoes, producing quiet hissing sounds. This paradise is reachable by taxi boats, or walking down the steep slope on foot. It is possible to leave the scooter on the main road, to venture then between brooms and prickly pears. The beach is well equipped: there is a dancing platform on the shore, in order to enjoy the moonlight while listening to music in Arabian Nights' atmosphere.